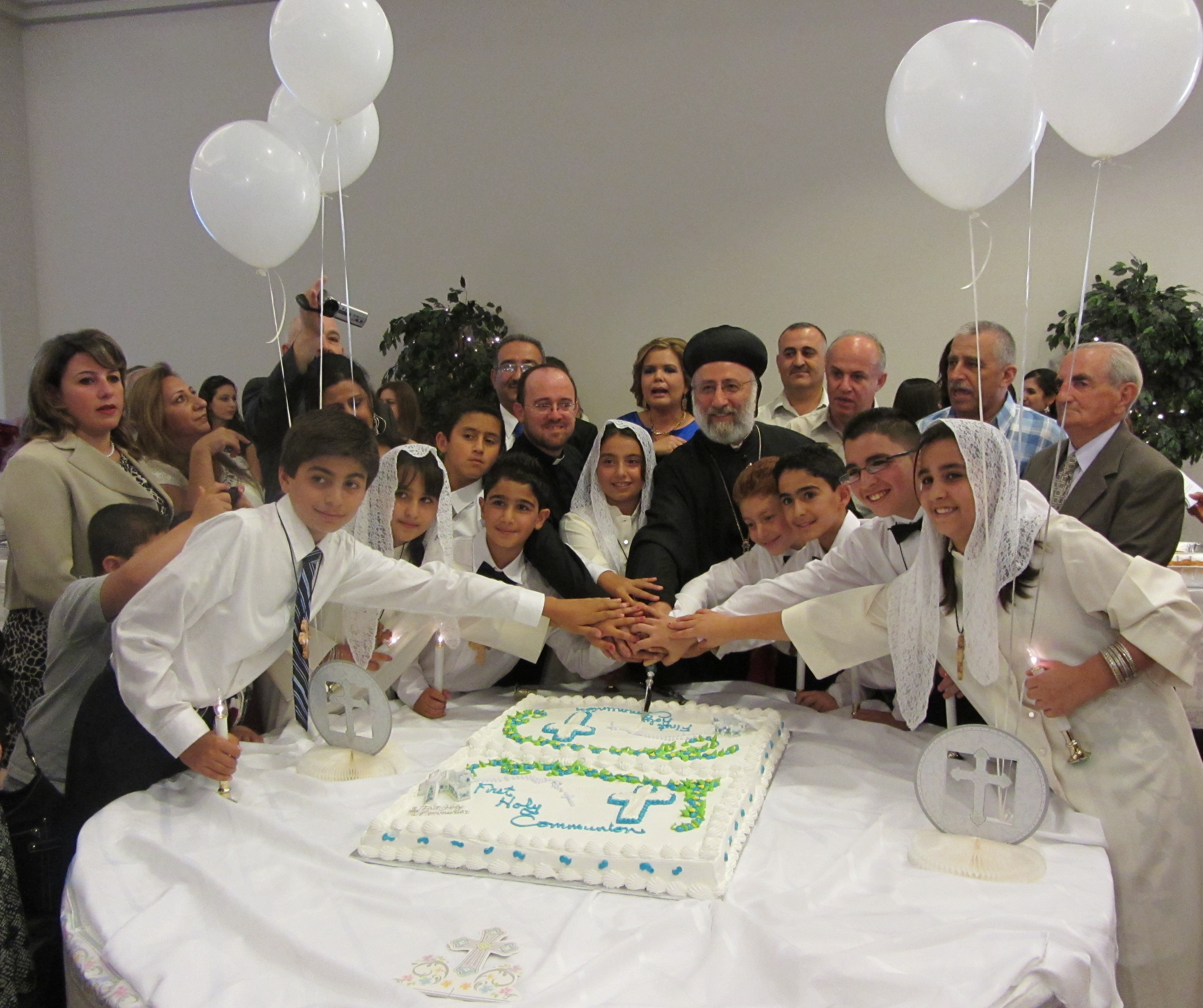 Ceremonial celebration of the Holy Communion at St. Thomas the Apostle, El Cajon
On the occasion of the Ceremonial Communion celebration at St. Thomas the Apostle which took place on Sunday, July 30, 2011, the parish priest Rev. Fr. Fadi Yousif Atto and the Administrative Committee invited His Eminence Mor Clemis Eugene Kaplan, the Archbishop of the Western Archdiocese, to celebrate the Divine Liturgy. During this joyous occasion, nine angelic dressed children chanted and read readings and prayers in English through the efforts of Ms Mina Jabri, who was under the supervision of the parish priest Rev. Fr. Fadi.
The children names are: Ammar Yousif, Fadi Shaba, Rafi Shaba, Saad Sarsam, Saib Abdulnoor, Yousif Jabri, Lydya Matti, Maryam Matti, and Mirna Abdullah.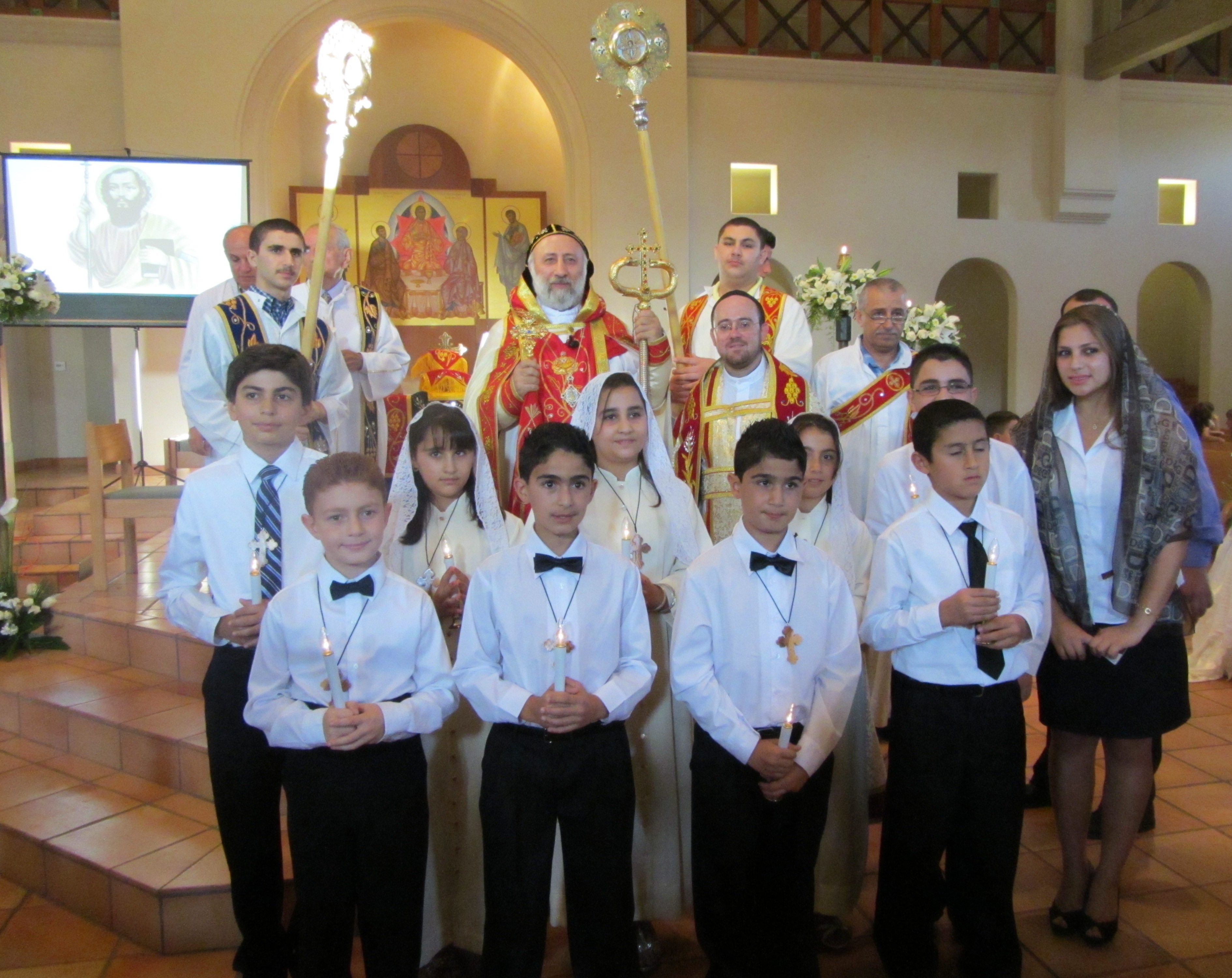 The church was filled with a large number of faithful who came to participate in the Divine Liturgy and the spiritual occasion of the Ceremonial Communion.

His Eminence was assisted by Rev. Fr. Fadi Y. Atto. During his sermon His Eminence explained to the children the meaning of the Ceremonial Holy Communion occasion and its importance of receiving the Body and Blood of the Lord for their spiritual lives… He told the children that they must continue to come to church every Sunday and learn about God… His Eminence also congratulated their parents, urging them to bring their children every Sunday to receive the Lord's Body and Blood. Then His Eminence gave thanks to Ms Mina Jabri who tirelessly taught the children and prepared them for this occasion as well as the parish priest and those who assist them.

After the Divine Liturgy all the attendees were invited to the church hall for a luncheon which was blessed by His Eminence. Certificates were awarded to the children who received the Holy Communion. All enjoyed the joyous occasion and had a wonderful time together
الاحتفال بالتناول المقدس في كنيسة القديس مار توما في ساندياغو...
بمناسبة الاحتفال بالتناول المقدس لرعية كنيسة القديس مار توما في ــ الكاهون ـــ ساندياجو في 30 أيلول 2011 قام الاب القس فادي يوسف عطو واللجنة المشرفة على إدارة الكنيسة بدعوة صاحب النيافة مار اقليميس أوكين مطران ابرشية غربي الولايات المتحدة للإحتفال بإقامة الذبيحة الالهية وخلال هذا القداس الاحتفالي قام تسعة من الاطفال ورتلوا وقرأوا مقاطع من الانجيل المقدس بالانكليزية. وهذه أسماء هؤلاء الاطفال المباركين: عمار يوسف، فادي شابا، رافي شابا، سعد سرسم، صايب عبدالنور، يوسف جبري، ليديا متي، مريم متي، و ميرنا عبدالله.
وكانت الكنيسة مكتظة بالمؤمنين الذين جاؤوا ليستمتعوا بسماع كلمات راعيهم نيافة المطران وللاشتراك بفرحة أولادهم المتقدمين للمناولة الاحتفالية. ولقد ساعد راعي الكنيسة الاب فادي سيادة المطران مار اقليميس بالقداس الالهي حيث إرتجل كلمة قيمة بالعربية والانكليزية متوجها الى الاطفال الذين إقتبلوا المناولة المقدسة حاثاً إياهم على المواظبة بالحضور الى الكنيسة ليتعلموا مزيدا عن كنيستهم وعن محبة الله الخاصة لهم ومهنئا الآباء والامهات بهذا الحَدَث الروحي الكبير في حياة اطفالهم كما وشكر السيدة مينا جبري والاب فادي على جهودهما في تعليم هؤلاء الاطفال.
ثم إشترك الجميع بالطعام في قاعة الكنيسة حيث صلى نيافته مباركاً الجميع حضورهم. وبعدها وزع نيافته شهادات المناولة على الاطفال. وقضى الجميع أوقاتاً مباركة.