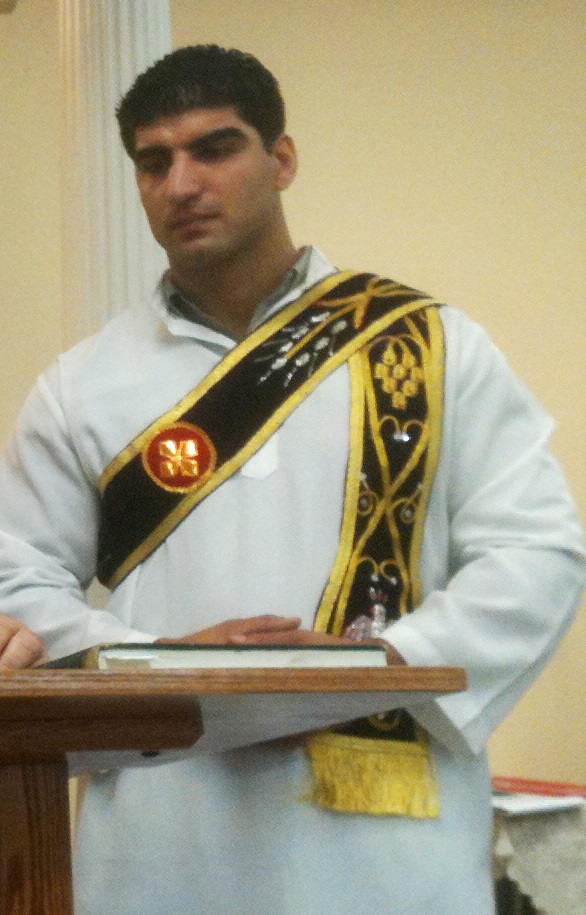 St. Thomas the Apostle Church,
San Jose
Deacon Sargon Mrad receiving a recognition award
On Sunday March 24, 2013, By permistion of His Einence Achbishop Mor Clemis Eugene Kaplan, very Rev. Fr. Yuhanna Salami and the Parish Council members of St. Thomas Church, had honored Rev. Deacon Sargon Mrad for his dedicated services as a deacon during the past 2 years to Saint Thomas the Apostle Church in San Jose, California.
Sargon, a member of the Australian Armed Forces was studying in Monterey, California and while there, he made an effort every Sunday commuting 1 ½ hours each way to serve our church.
Sargon was ordained by His Eminence Mor Clemis Eugene Kaplan to the rank of Subdeacon (Afoodyaqno) on November 18, 2013 in San Jose.
Having successfully completed his studies, Sargon will be returning back to his home country, Australia in two weeks after touring California with his visiting family.
We thank Sargon for his dedicated service and wish him success in his future endeavors.
Ayad Zako
St. Thomas Church, Vice President